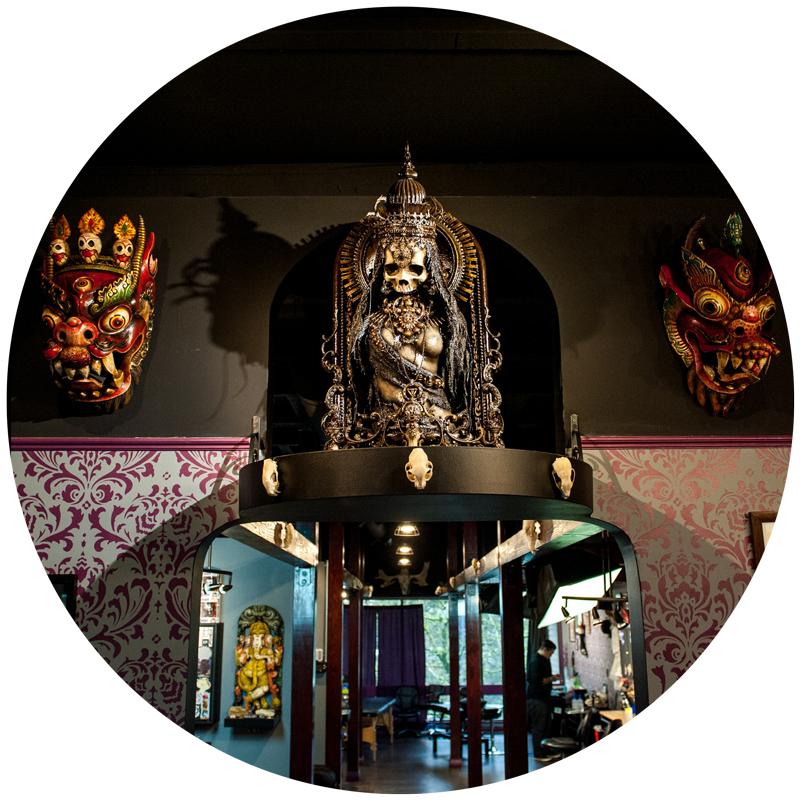 Dead Gods Tattoo has been operating in Tigard, Oregon and serving the Portland metro area since 2010.
The guiding philosophy of Dead Gods Tattoo is simple: the best tattooing comes from the right environment. The right environment is created when talented and fun loving artists get together for the shared vision of creating art and positive memories. Seasoned collectors and first timers alike will enjoy the friendly and welcoming environment created by our team. Our experienced artists have a wide range of specialties so you should have no problem finding the right artist for your project.
We draw together, paint together, debate ideas, and try our damnedest to out-do one another. Our team is always pushing itself to new heights and we hope you choose us to join you in your journey.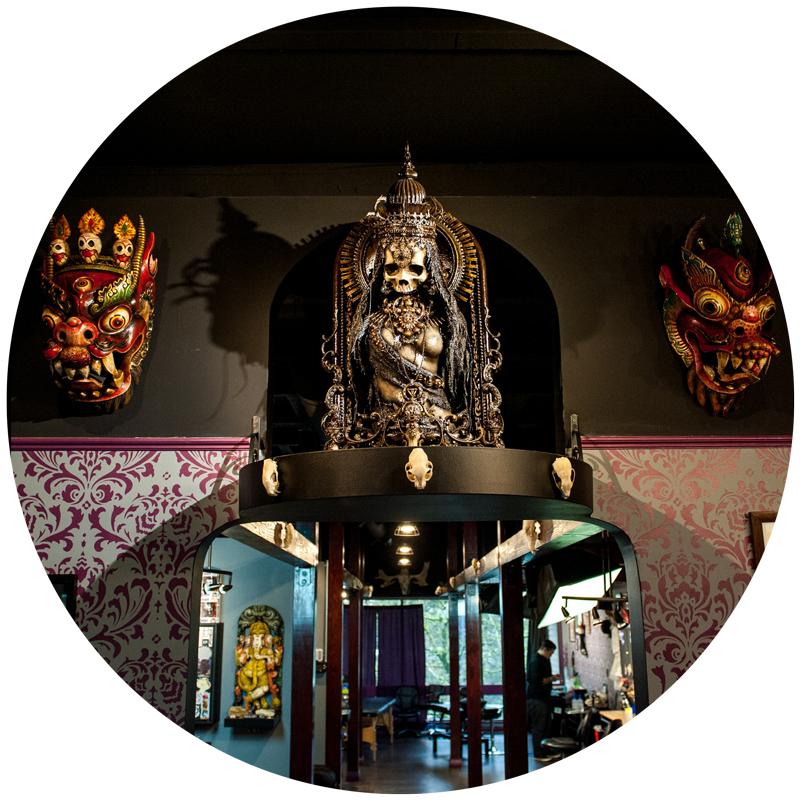 Joe Skramstad
Style:
Asian, Floral, Realism, Graphic and illustrative art with an emphasis on very colorful imagery
Nickname:
Skrambles
Experience:
Since 2001
Famous For:
Not eating his vegetables
Best Feature:
Chiseled Jawline
Favorite Color:
Purple
Austin Allen
Style:
Illustrative, Color, black and grey and realism
Experience:
Since 1992
Famous For:
Guns & Kittens
Brandon Hildebrandt
Style:
Illustrative art with an emphasis on graphic and pop culture imagery (gaming and movie), watercolor and geometric designs
Nickname:
Broncanus
Famous For:
Being a Canadian Vampire
Favorite Color:
Maple Leaf Red
Jay Eakin
Style:
Fine line Black and grey, realism with a focus on wildlife and scenery and Gothic imagery
Famous For:
Being best friends with Kanye West!
Best Feature:
Putting Brandon in Headlocks
Favorite Color:
"When in doubt put some green in it."
Ashley Antolin
Style:
Floral, Henna (Mehndi), Polynesian Tribal, Neo-traditional, Color
Nickname:
Ash, Smashly Ashley, Smash
Favorite Color:
Sparkles and Rainbow!
David Goldstein
Style:
Illustrative and graphic styles, fantastic imagery in black and grey or color and script
Nickname:
Davey the Destroyer, Davey the Slayer of Viggo the Carpathian & Master of Gozer.
Famous For:
Slaying Shao Khan in Single Combat with a Pencil... Fatality
Favorite Color:
The Dark Blue Waters of the Outworld, Nymeria
Luke Reuben
Style:
Traditional, Neo-traditional, blackwork and minimalist with an emphasis on geometric imagery
Nickname:
Rex
Experience:
2012
Famous For:
Awkward Social Interactions
Best Feature:
Long Legs
Favorite Color:
Davey Havok black