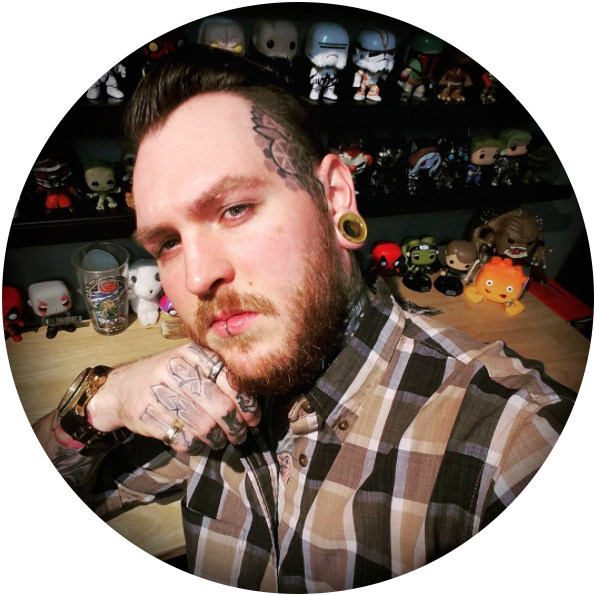 Shop Location:
Tigard
Rate:
Half day: $1000 (3-4 hours)
Full day: $2000 (6-8 hours)
Forced to flee Germany in the late 30's, Brandon's family settled for the tropical island climate of sunny Halifax, Nova Scotia, Canada. Brandon had the typical childhood for any German family of  vampires, He enjoyed playdates with his food and long walks on the beach, usually at night. He fondly remembers riding his pet unicorn before the family fell on hard times and had to sell it to the glue factory. He then spent the next several years as a nomad traveling throughout Canada and the western United States, studying the art of tattooing from mystics and bandits alike, always staying one step ahead of Vampire Hunters. Eventually starting his first apprenticeship at the mortal age of 18, in the perfect city for a vampire…Las Vegas. He furthered his artistic study of tattooing in Arizona and California before moving here to Portland, Oregon where he dwells to this day.
Brandon specializes in new school illustrative color tattoos, he always likes to take on new and exciting projects that challenge him creatively.
Unbelievable talent at this shop! My artist is Brandon and he does amazing color! Highly recommend him! Anyone in the shop is amazing and well collective! You can literally go in and someone will be able to do what you are looking for and on top of that, have a great experience.