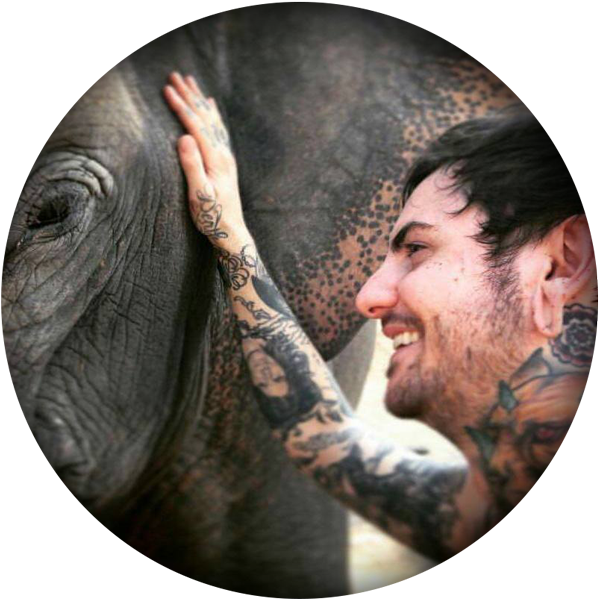 Shop Location:
West Linn
Rate:
Half day: $1000 (3-4 hours)
Full day: $2000 (6-8 hours)
David Goldstein was created in the laboratory of a disgraced mad scientist, assembled from only the best corpses. He has the body of Montgomery Burns, the legs of a mountain goat, and the head of fugitive trucker and serial killer Rick Crenshaw. Upon his reanimation, Davey slayed his creator and set forth to unleash his destruction on the world. He discovered that the scientist had given him special powers: he now possesses super human strength, a heighten sense of irony and the ability to travel to different dimensions. He forged his artistic talents and tattoo abilities in the dark fires of the nether-realm over several centuries (or four earth years). With his training complete, he returned to the realm of men to set his evil plan into motion; first by changing the world of tattooing and later to enslave the human race.
Davey enjoys tattooing the creatures and entities that he has met during his travels to other dimensions. He considers his work both illustrative and neo-traditional; loves tattooing aliens, demons, creatures and animals, anything surreal and abnormal, the things that remind him of himself. He also enjoys elaborate script and Japanese styles.
Come in and get a tattoo from this one-of-a-kind monster, both too weird to live and too rare to die.
Clean, set up well, love the purple damask walls and taxidermy skulls! David Goldstein is the best. Always taking the time to make sure it looks perfect and tha
t I'm happy with it before it is forever. Mason was great at replying to me to arrange the time. Nice people. They seem to have a lot of fun as well!